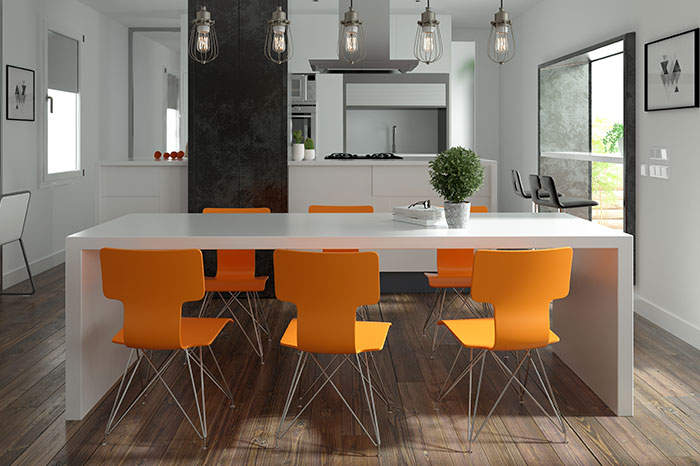 The Coolest Interior Design Trends 2020
This year has brought along with it some of the most unique and must-try trends that will take your Interior Designing to the next level. Try out some of these for the most stunning looks to give your home the makeover it deserves.
Curved Sofas:

In 2020, curved sofas are the new trend. Inspired from the 70s this curved seating is starting to replace right angles. Curved sofas and high-back armchairs create an instant glamorous vibe and make a statement in the simplest of spaces. Add this piece of furniture in your living room for an interesting new look.

Velvet Furniture:

Velvet is the hottest new trend in the interior designing world this year. Combining luxury with comfort is the perfect blend. Available in vibrant shades like pink, blue, purple, orange and much more, this is sure to completely transform your living room. Making way for endless possibilities, velvet seems like one of the most promising trends of 2020.

Floral Wallpapers:

Floral wallpapers are another look that has made a strong comeback this year. However, this time it is much more different than the traditional wallpapers that you might remember. Wallpapers today adopt a much more colourful style along with floral patterns of different sizes and shapes. Vibrant and contrasting colours that will make your walls look popped out are totally in right now.

Maximalism:

Move on from minimalism because 2020 is all about maximalism. This is about embracing the quirky, fancy and glorious side of life. With bold and bright colours and patterns, eccentric decors and abstract paintings, it is now totally acceptable to get over the top. However, there is a very fine line between following this new trend and cluttering your space with everything you can find.

Built-in seating:

This weird trend is starting to gain popularity this year. It is usually a cosy sitting space attached to a window or protruding from a wall. It is fun, interesting, pretty and space-saving. It adds a new charm and character to any room, making it stand out. Tiny amusing details like this are going to be a big thing in 2020.

Indoor Gardens:

Indoor plants have been popular for quite a while at this point. Therefore it is now time to take this to another level and bring a whole garden inside. It is perfect for flat residents who refuse to leave behind their love for plants. Though it is not the ideal situation, it is a fun way to overcome the lack of greenery in your life.

Contrasting Colours:

High contrasts are very much in trend at this moment. Combining two colours that contrast with each other is a great way of creating a dramatic effect. This is your perfect opportunity to play around with colours. People are often afraid to use darker colours because it makes the room look smaller. Thus the perfect solution for this is to combine it with a lighter and contrasting colour.

Two-toned Kitchens:

In 2020, prepare yourself to see a lot of colours. Colours have now followed us to the kitchen as well. Not just one, but a combination of two colours, made to complement each other. A common way to do so is using a darker colour, dramatic colours for the lower cabinets and lighter, neutral ones for shelves and higher cabinets.

Blues:

In 2020, blue, specifically classic blue is the colour of the year, and we wouldn't wonder why. This elegant and rich colour is an excellent option for your home. Blue goes well with everything. Be it in modern or traditional homes, blue is the way to go.

Earthy Tones:

Interior designing trends in 2020 have been a lot about colours. To add on to this list, we have earthy tones. These are all about colours and textures that are derived from wood, rocks, plants and other basic elements from nature. This is perfect to create a calm and refreshing zen-like environment.
Looking for expert interior designers who can help you adopt these latest trends into your homes? Get in touch with Novus now!